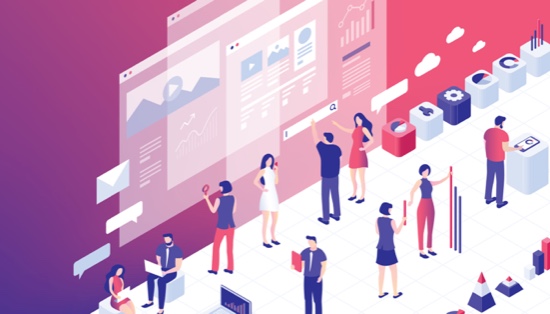 Understanding what and how your website visitors are consuming content is integral in delivering consistent communications and for underpinning future decisions on content delivery.
However, for many clients looking at the raw Google Analytics data can be confusing and normally presents more questions than answers! To help combat this, we have reformatted our website reporting to provide more detailed insights, comparisons and detail to answer those commons questions investor relations teams get asked.
If you're in the process of releasing your annual report, delving into your website analytics could offer valuable insights about which pages to drive people to, especially around information that may change regularly.
Reporting more key metrics
We have split out our reports into 4 key areas:
Audience
Traffic sources
Content performance
Goals
Each report provides a breakdown of key data with comparison to the previous period.
Audience
For those looking for a quick overview of number of visitors, average time on the site, age, location and device type, this report is for you!
Traffic sources
Outline where your audiences come from with clear website refferals and social media channels being used to find your content.
Content performance
View the most visited pages of your site and find increases or decreases compared to the previous period to pick out any trends in activity.
Goals
Here you can quickly see how many downloads certain documents have had alongside other key goals.
How many times has our annual report been downloaded?
This is probably the most frequently asked question when we present analytics data to clients and it can have a significant impact on future communications strategies. Wen you look back over the course of 12 months or even 6 months, PDF downloads of your annual report can range between 500 to over 3,000.
As companies seek to streamline processes and costs through digital delivery, ensuring your website is a central source of data for all stakeholders will become increasingly important. Reviewing the increase in downloads each year provides a clear foundation for moving your reporting to a purely digital focus.
Who's the most populat board member?
This is more to lighten the mood than start a populatiry contest, but with our advanced tracking capability we can detail exactly which biographies are clicked on. This filters down to the rest of the website in that any button or interaction can be monitored and reported back to give actionable inisghts to your team and board.