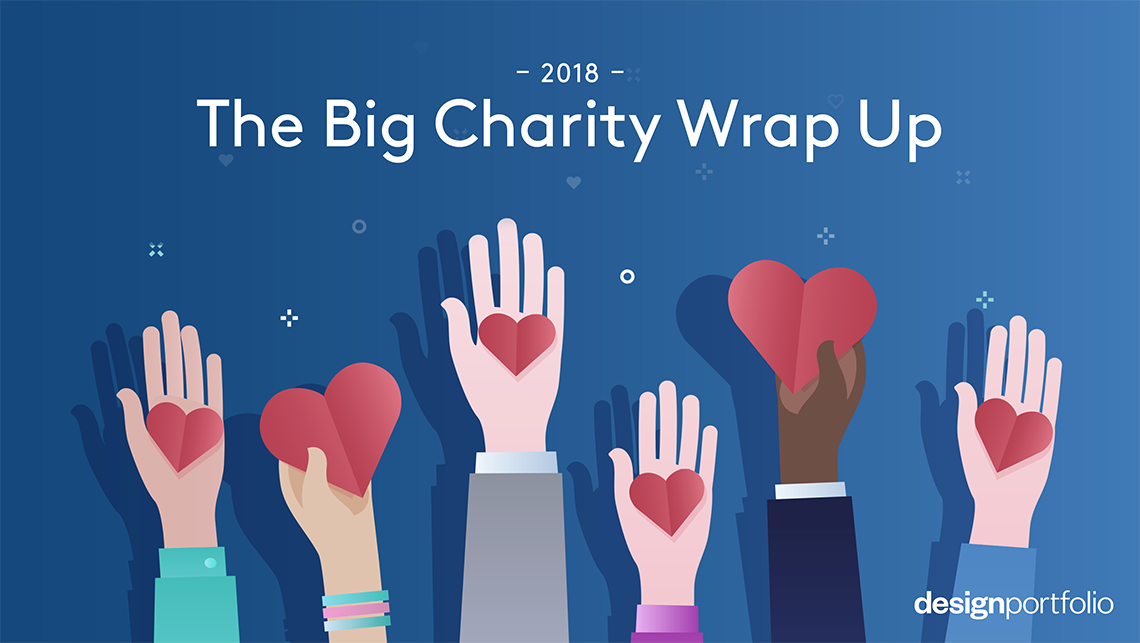 Stay informed with regulations, insights & events by joining our mailer
It's the new year and our teams are back in the office after a very fulfilling and indulgent break, already busy cracking on with several exciting projects and ready for all that 2019 has in store.
Reflecting on the past twelve months, for us 2018 was a year of great successes. We won some fantastic new clients following competitive pitches including Quiz, Funding Circle and CMC Markets, welcomed numerous talented professionals into our fold and swept the board with Gold award wins at the European IR Magazine Awards.
Never too busy to help others, we also launched our #CharityChapters series on social media showcasing snippets of the great charity work our team has been involved in and, as at the end of every year, alongside personal fundraising, we participated in several seasonal charity events as a company.
To round off 2018, our offices participated in three main festive fundraisers, raising money and gathering donations as a team to help those in need this winter.
Wrap Up London
A firm favourite of the whole team, this was the fourth year that we gathered our unwanted and unused coats, scarfs, hats, jackets and sleeping bags to donate to those in need.
Wrap Up London is a charitable organisation that collects unwanted, warming clothes to give to charities that support the homeless, refugees, children living in poverty and people fleeing from domestic violence.
During the early weeks of December, we brought warm garments of all shapes and sizes into the office, ready for the drop off. Charity workers gathered in train stations all around London ready to collect the generous donations and there were smiles all around when we arrived at Canary Wharf station carrying several bags of the wintery ensembles.
Food bank collection
Another annual tradition across our offices is the widely successful food bank collection.
In the past, during the festive period, our team have raided their cupboards and supermarket shelves to gather generous quantities of canned and packaged items which are then donated to local food banks at the end of the month. These are then distributed to shelters to help feed and care for the homeless, refugees and those in need.
This time, to ensure we provided a decent range of groceries and toiletries, we took part in an office draw for particular items. Of course, we could pick out as many items as we liked and with most of the team selecting two or more, we knew 2018 was going to be another very successful year!
Christmas Jumper Day
Last but not least, 14 December marked the highly anticipated national Christmas Jumper Day – a day no one likes to miss out on! We took part in a variety of sparkly, flashy and some downright hilarious festive jumpers all to raise money for Save the Children.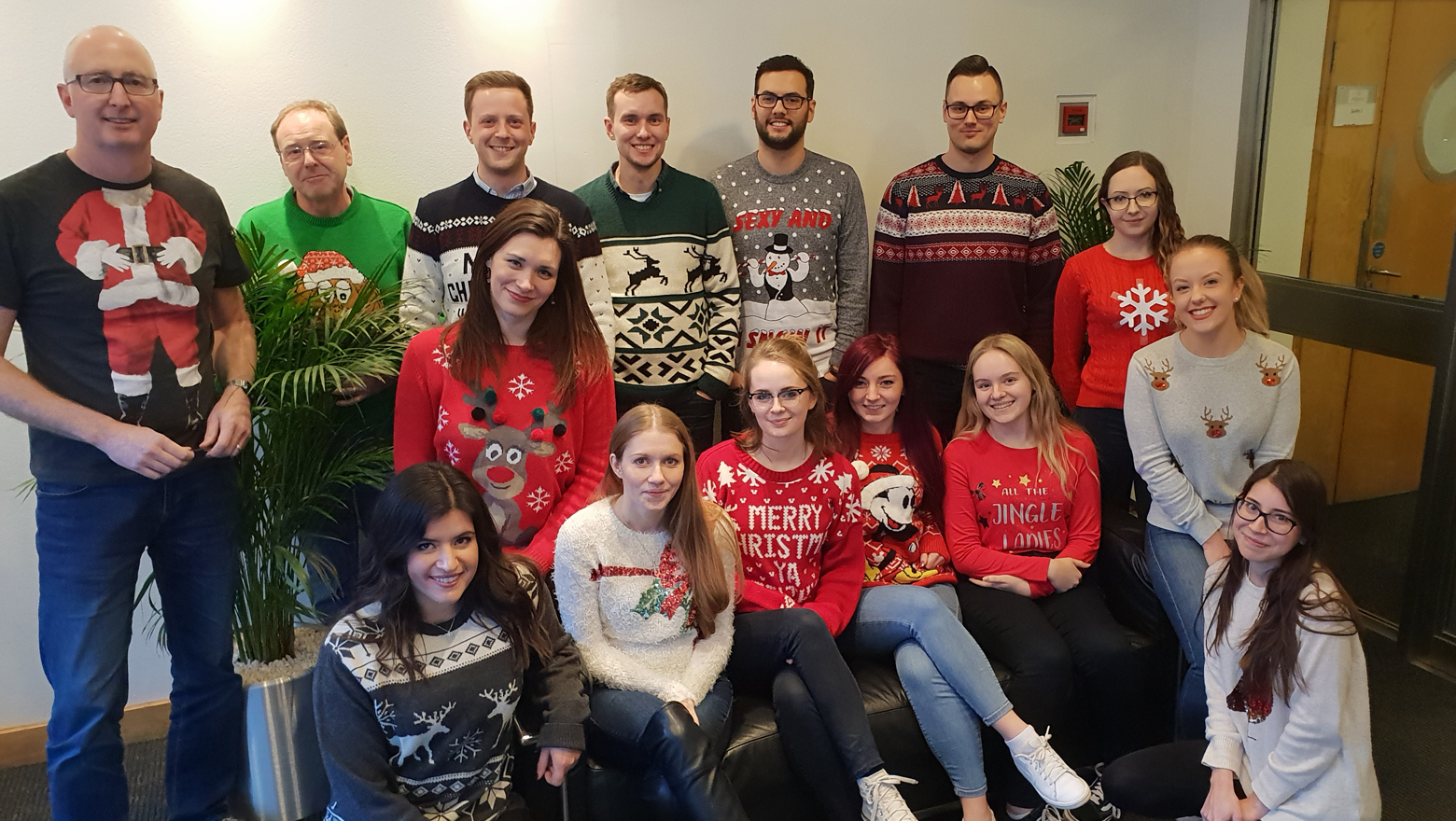 Save the Children is a global organisation that aims to help and protect children in poverty, providing them with the chance to learn and ensuring they get a healthy start to life.
Working across nations all over the world including Africa, Asia, South America and the UK, they help provide children with the food, education and health resources that they urgently need.
Each year they encourage offices, schools and people all over the world to don their brightest, craziest Christmas jumpers and donate £2 or more to help make the world better with a sweater.
Between our offices we raised £138.50 for this amazing charity with our Business Development Manager, Joe Brooks, winning the competition for best dressed in the London office and Senior Typesetter/Artworker, James Wood, winning in the Northern office.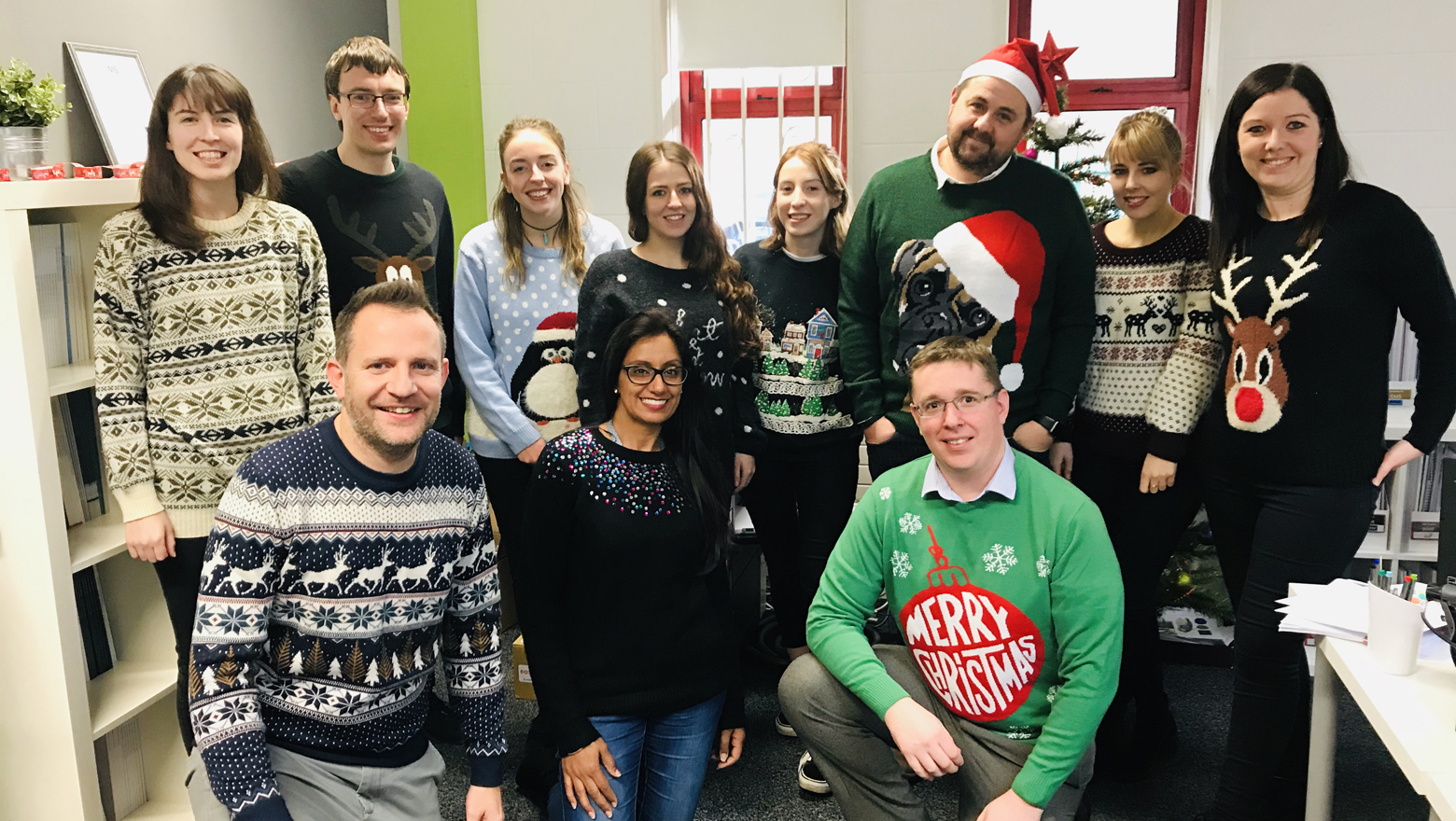 We had a fantastic level of participation and contribution to all of our charity events last year and we look forward to giving back again in 2019. Stay tuned in the coming months to hear about some of the great events already lined up, including the National Three Peaks Challenge.
We look forward to all the opportunities that 2019 will bring…
To read more about our previous fundraisers, visit the social page on our website or follow our blog series #CharityChapters on social media.