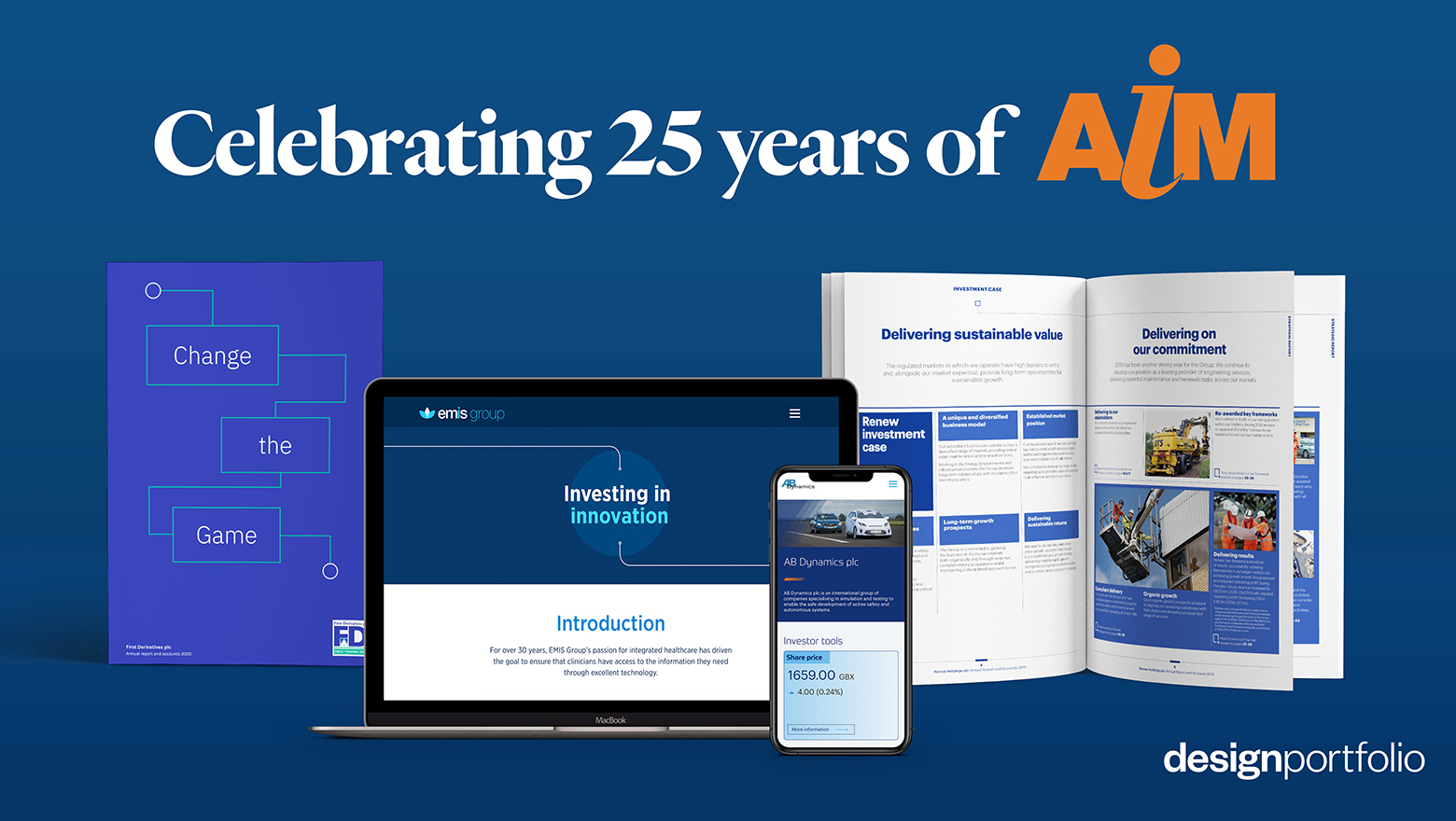 We take pride in working with a range of different AIM listed companies, supporting them on their unique journey with corporate communications.
Stay informed with regulations, insights & events by joining our mailer
It has been 25 years since the Alternative Investment Market (AIM) first launched. Although there have been both highs and lows over this time, we would like to congratulate AIM on providing the invaluable foundation needed for smaller companies to grow into some of the most promising businesses around.
AIM at 25: coming of age
Set up in 1995 – after the London Stock Exchange closed the Unlisted Securities Market (USM) in 1991 – the purpose of AIM was to help small growing companies to raise capital, without having to comply with many of the more onerous requirements and regulations of the Official List.
AIM has endured both turbulence and uncertainty, similar to the FTSE, but there have also been plenty of opportunities. The market has noticeably matured over the years, growing from ten companies worth a total of £82.2 million on the first day of launch, to around 850 companies worth over £70 billion today.
Since its launch, over 3,000 companies have joined and raised money on AIM. And whilst the average market valuation for companies remains below £100 million, the market is home to some very large, high-profile winners.
Ranging from oil and green energy through to retail giants like ASOS and Boohoo and premium drinks producer Fevertree, AIM has gained a reputation of building resilient and high-quality companies.
"I would like to congratulate the London Stock Exchange for having the foresight and courage to introduce a separate light-touch market for growth companies and to lead the world in enabling growth companies to access the financial fuel to turbocharge their growth." – Ian Restall, Chairman of Design Portfolio
Our support for AIM
Building clients' stories
25 years ago, the world was a very different place but Design Portfolio, even then, was helping smaller growth companies to effectively tell their stories. We were there at the birth of AIM and remain a major adviser to AIM's growth companies to this day. We were a champion of growth companies then, as we are now.
We take pride in working with a range of different AIM listed companies, supporting them on their unique journey with corporate communications – from the creation of innovative and effective annual reports and investor presentations to the design, build and maintenance of corporate websites, video and the identification of clear sustainability strategies.
Our incredible AIM portfolio includes the likes of NWF, an AIM original from 1995, growing from a float value of £22.1 million to a current value of £98.0 million; Renew Holdings (2011), which transferred from the Main Market and has been one of the top performers over AIM's 25 years; EMIS (2010), which, with our support, continually tops the list of Best Investor Communications at the AIM Awards; and AB Dynamics (2013), which has been praised for consistently under-promising and over-delivering on investor expectations whilst on AIM.
For more examples of our high-quality AIM reporting, take a look at:
AIM Awards
​​​​​​Design Portfolio has been a regular, long-term sponsor at the AIM Awards, which was founded by our Chairman, Ian Restall, in 1995. In association with BDO and the London Stock Exchange, the AIM Awards identify the companies and entrepreneurs who have harnessed AIM to fulfil their ambition and growth potential. The Awards are presented annually at a Black Tie dinner which attracts guests including C-suite AIM directors and AIM advisers – ranging from NOMADs and brokers to accountants, lawyers, investor relations and financial PR professionals – making it the largest AIM gathering in the City calendar.
Happy 25th birthday, AIM!
There were many detractors 25 years ago who thought that AIM wouldn't last the course and was too high risk, and that investors should give it a wide berth. 25 successful years later it has clearly proved the doubters wrong and we look forward to another 25 successful years of AIM growth. At least! Happy 25th birthday, AIM!