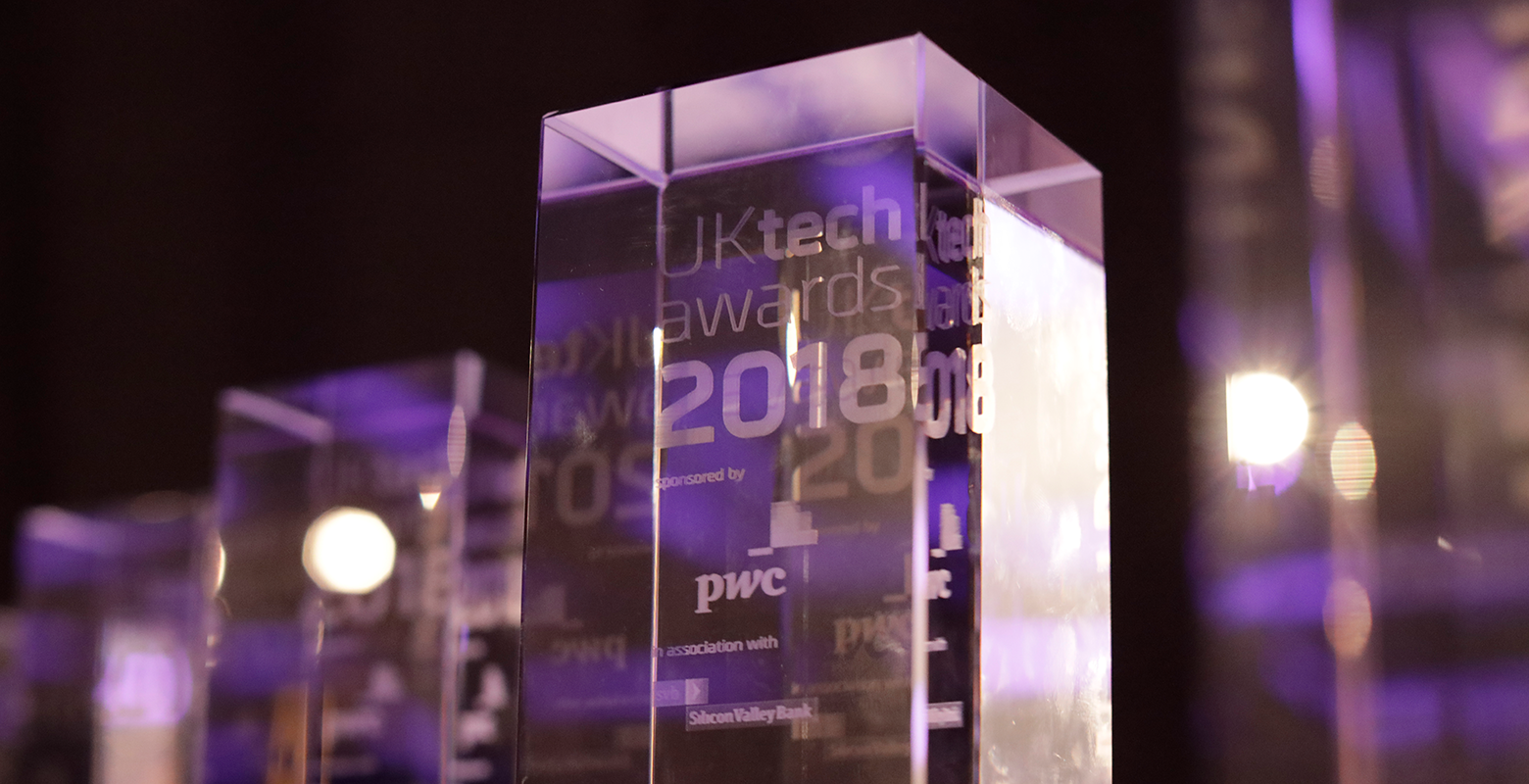 Stay informed with regulations, insights & events by joining our mailer
Thursday 1 November marked the 18th annual UK tech awards and Design Portfolio was once again proud to be a sponsor at this prestigious event celebrating the best in the UK technology sector.
The venue was lit in various purple hues as guests arrived at the glistening Park Plaza Hotel in Westminster Bridge. Inspired by the industry, we wanted to welcome guests with a unique brochure and created 800 individual covers from one large graphical image, using a mosaic technique to scale, reduce and highlight different gradient colours.
Sponsors, hosts, FDs and CEOs all gathered across the two-storey reception rooms for pre-drinks, eager to see who would win one of the evening's coveted, crystal, laser-cut trophies.
Hosting the awards ceremony once again was none other than hugely respected BBC presenter Louise Minchin. Louise has been one of the BBC's main news anchors since 2003 and is a presenter for BBC Breakfast and the News at One.
Before long, dinner was called and guests made their way into the grand, candlelit ballroom eagerly awaiting what the evening had in store.
Charity support
A charity collection was also held, this year raising money for two amazing charities: bccs and YoungMinds.
We are proud to support bccs not just as a charity but as a client. It is an Essex-based charity whose primary focus is providing counselling for young children and adults whose wellbeing or mental or emotional health may be at risk. YoungMinds, in a similar fashion, supports parents to help their children through difficult times with emotional wellbeing and mental health as well as equipping professionals to provide the best possible support.
UK tech awards categories
As the ceremony began, the winners were announced as follows:
Tech Fund Manager of the Year Award – Robin Geffen/Neptune Global Technology
Tech Innovation of the Year Award – Featurespace Ltd
Tech Journalist of the Year Award – Mark Bridge/The Times
Tech Deal of the Year Award – Avast plc
Best Use of Tech in the Digital Economy Award – Purplebricks Group plc
Tech Businesswoman of the Year Award – Carol Kane/Boohoo Group plc
Tech Growth Business of the Year Award – Mimecast Ltd
Tech CEO of the Year Award – José Neves/Farfetch Ltd
Tech Company of the Year Award – Ocado Group plc
The evening was rounded off by some excellent comedy from rising star Ivo Graham and concluded with a great opportunity to network and connect with industry peers and colleagues.
Congratulations to all the participants and winners! We look forward to next year and the success stories it will bring.
Design Portfolio works across all sectors and markets, including the tech sector. If you would like us to take a look at your corporate communications, get in touch at hello@design-portfolio.co.uk.