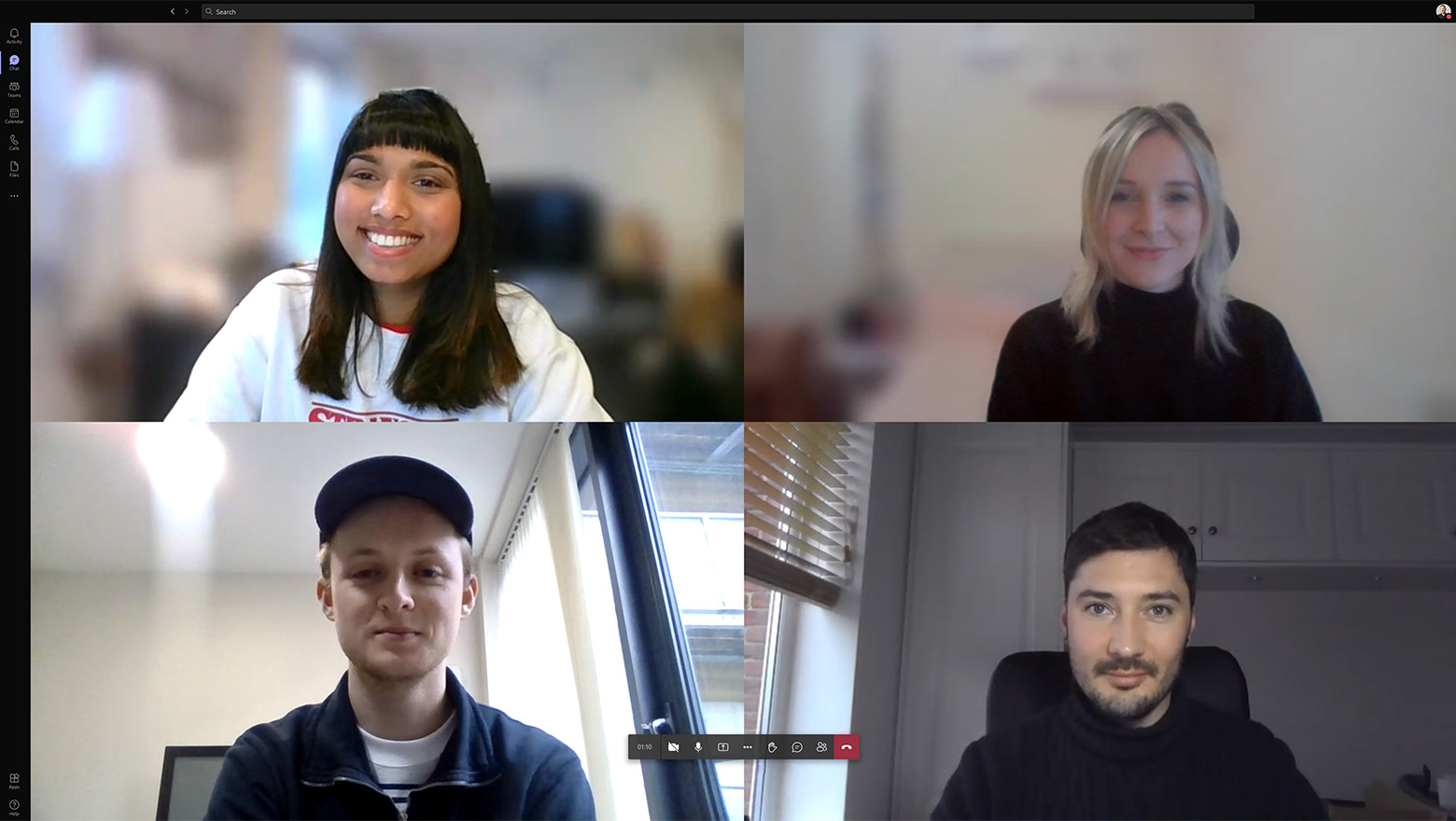 Stay informed with regulations, insights & events by joining our mailer
We all know that 2020 was a challenging year, but here at Design Portfolio, we have high hopes that 2021 will bring us a fresh new start. With several new people joining the team and the number of DP home offices expanding even further, we are looking forward to an exciting year of achievement all around.
We understand that starting a new role at home and getting to know a new team virtually can be challenging, so we are always striving to ensure our team is looked after and feels comfortable in their working environment, wherever that may be. This week, we caught up with four of our new joiners to find out how they've been settling into their new roles from home, and how they are finding the virtual transition so far.
Esme Burford
Joining us with a varied background in corporate reporting and communications, Esme is very happy to be working as a Senior Account Manager at DP, where she can use her most recent skills obtained from the packaging and branding industry to grow further in a world of design and corporate communications.
Esme, what do you love about your role and why did you choose Design Portfolio?
"I enjoy building client relationships and I chose Design Portfolio because of the great work and excellent reputation for on company culture!"
Serenati Rahman
Joins us with a background within marketing and communications with creative experience and great enthusiasm to flourish in her new role as a Digital Account Executive.
Serenati, how are you finding the working from home lifestyle and getting to know your team virtually?
"My working from home experience has been absolutely fine – I have everything I need. Everyone at Design Portfolio has been so welcoming and friendly."
Alasdair Melaugh
Bringing a large amount of experience from the hospitality and customer service sector, as well as within the management team of an independent business, Alasdair is very excited to use his skills to grow in his new role as an Account Executive.
Alasdair, what are you looking forward post covid-19 and working at the office?
"I am looking forward to having more face-to-face collaborating and company social events. This will help me to get to know my colleagues even better."
Russ Palser
With previous customer and client experience working within the retail and recruitment sector, Russ has a passion to develop his career in creative communications in his new role as Account Executive.
Russ, what has helped you get to know your colleagues better?
"Our daily catch-ups and social activities such as virtual wine tasting, quizzes, tea breaks and bacon butty breakfast teams calls. This has made working from home and getting to know the wider team very natural".
Virtual highlights for the year ahead
At Design Portfolio, it is very important for us to make sure our colleagues are staying connected, building relationships, and having fun along the way. These are significant values that are continuously encouraged in our workplace.
We have dedicated time throughout the day to make all our working from home experiences more exciting, from hosting events to catch-ups like our #BrewMonday tea break, which not only allowed us to raise £376 for Samaritans but helped us reconnect with our colleagues over a cuppa!
It is apparent that working virtually has become a natural and enjoyable experience for our new starters. Esme said "believe it or not, I'd like to continue virtual meetings with clients. I find it provides even more opportunities to build relationships."
At Design Portfolio, we care a lot about our colleagues' happiness and supporting each other is one of our core values. We recognise a lot of our company values in our new starters and we're looking forward to working with them in lockdown and even more so, hopefully soon, out of lockdown.