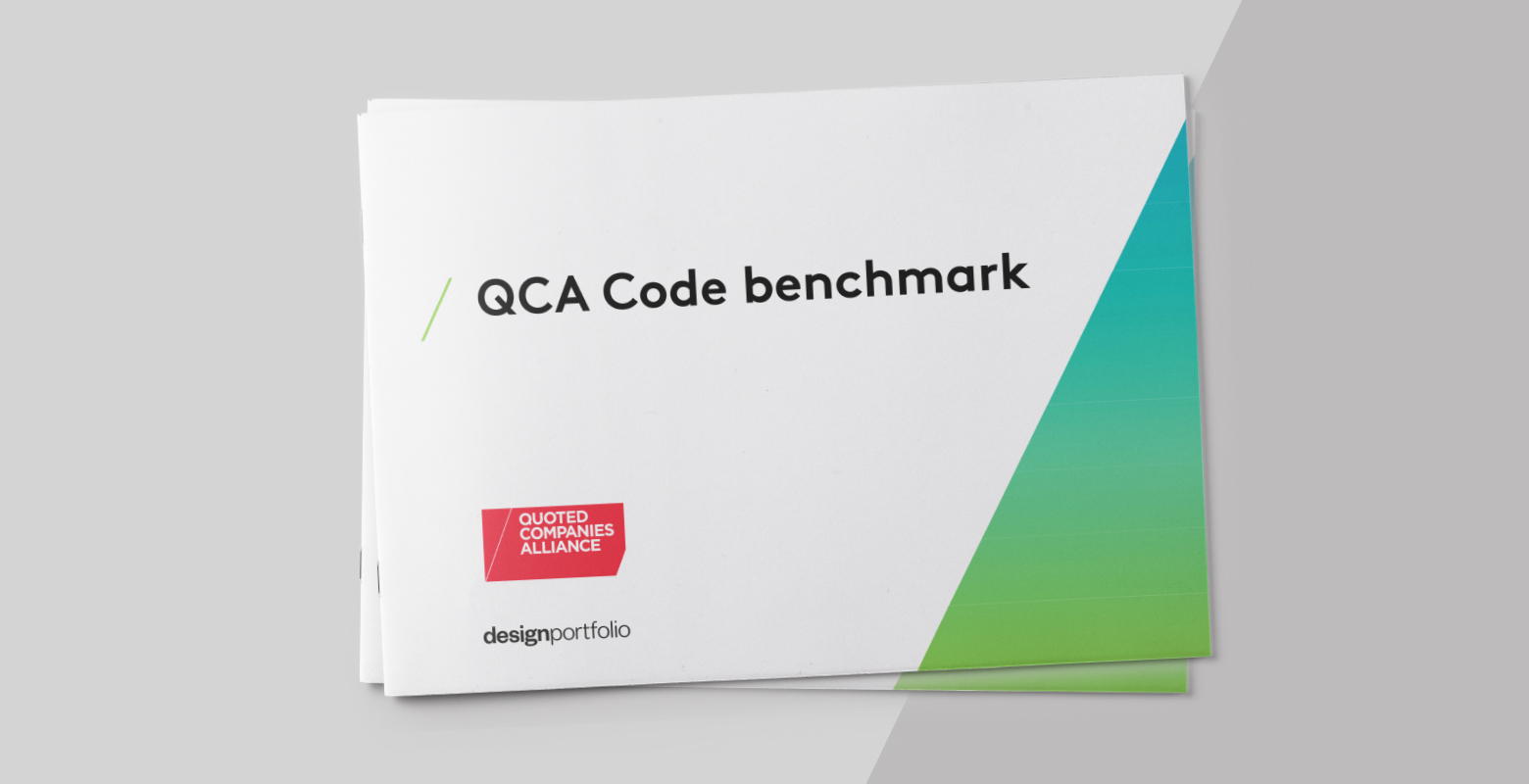 Stay informed with regulations, insights & events by joining our mailer
Last Friday 28 September, the AIM Rule 26 changes officially came into action, requiring all AIM companies to choose a recognised Code to comply with. It was anticipated that the majority of companies would choose to adopt the QCA Code, which would likely see an impact on the governance content of both their corporate website and their annual report.
Design Portfolio are members of the QCA, and with our Research and Strategy Director sitting on the Governance Expert Committee, we felt we were well placed to offer support and advice on the changes. As such, we have been chosen to work in partnership with the QCA to offer support to those that have chosen to adopt this Code.
Subsequently all of our clients and QCA members are being offered a newly created "Governance Package" that includes a full benchmark of their corporate communications against the updated Code. A bespoke approach is being taken to allow each company to choose the level of support they require to implement the new regulations and ensure they are fully compliant.
For several clients, including WANdisco, Portmeirion and Mirriad, we highlighted any areas of non-compliance in their communications, and any opportunities to provide more transparent information surrounding their governance reporting.
Our full Governance Package includes the following:
an in-depth benchmark analysis of the annual report and corporate website against the ten principles of the QCA Code;
specific recommendations for the ten principles and how to implement disclosure in the annual report and corporate website;
a selection of best practice information to support any recommendations; and
a detailed corporate governance page plan and sitemap to help structure the governance content.
The Governance Package has proved incredibly helpful for our clients and, while work continues for many companies, two good examples of our client's fully compliant websites are:
The real change, however, resides in the updated corporate governance sections of the annual report, which will need to be made more engaging and transparent. We feel there is a real opportunity here for companies to set themselves apart by clearly explaining why their governance team should be trusted and how stakeholders and a healthy corporate culture are integrated into all board decisions.
If you are interested in the Governance Package to help your company prepare and implement the changes, we are available for continuous support and advice.
Please contact daniel.redman@design-portfolio.co to find out more