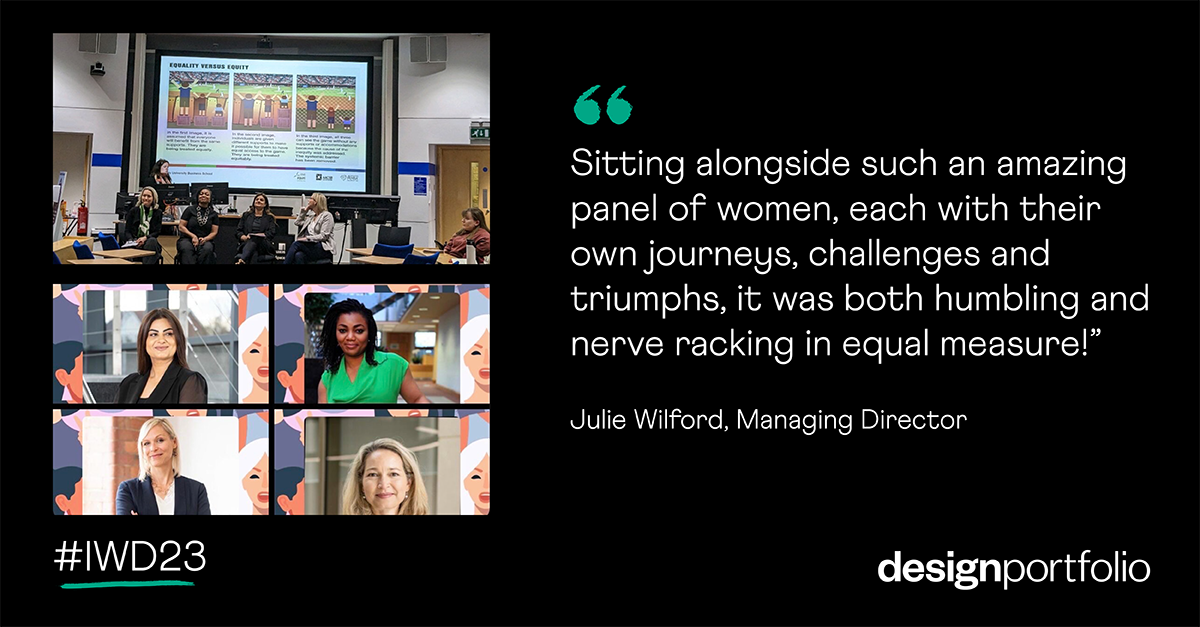 "Having spent pretty much all my professional career with just one company, Design Portfolio, I reflected on how I had joined on a university placement as an admin assistant and over the last 23 years, climbed the ranks to Managing Director and owner."
Stay informed with regulations, insights & events by joining our mailer
Recently, for International Women's Day, I was invited by Rebecca Padgett at the Leeds University Business School to talk to some of their students about my own journey in business and to discuss how we can do more to #embraceequity.
Sitting alongside such an amazing panel of women (Asma Iqbal, Griselda Togobo and Margaret Korosec), each with their own journeys, challenges and triumphs, it was both humbling and nerve racking in equal measure! As they all introduced themselves at the beginning of the Executive Speaker Series event and highlighted their own stories, I thought, "how do I follow that?!"
It's very easy to look back on a career and forget how many obstacles you have had to overcome over the years and just how hard you have had to work to get to where you are today. Whilst I was completely out of my comfort zone sat in front of so many expectant students at various stages of their university learning, as I started to talk about the early stages of my career, it was a healthy reminder of how much of that time I had spent entirely out of my comfort zone!
Having spent pretty much all my professional career with just one company, the Design Portfolio, I reflected on how I had joined on a university placement as an admin assistant and over the last 23 years, climbed the ranks to Managing Director and owner.
That kind of tenure and experience is considered a little unusual these days and I won't lie, it took a huge amount of effort and stamina! But I was reminded on International Women's Day of all the opportunities that had been afforded to me over the years in terms of my upbringing, my schooling, my Design Portfolio experience including all my wonderful mentors, colleagues and clients and in starting my own family. I wanted it all, I worked hard to have it all and, in many respects, thankfully, I have pretty much got it all.
But that isn't the case for many others, which was evident listening to Asma, Margaret and Griselda's stories and personal experiences shared from the audience.
It reminded me that whilst it's difficult to directly influence the many injustices that have faced and continue to face women around the globe, myself and my fellow senior leaders at Design Portfolio can, and should, continue to #embraceequity by ensuring that there are no obstacles to women progressing their careers with us, and equally, there are no obstacles to anyone starting their career with us.