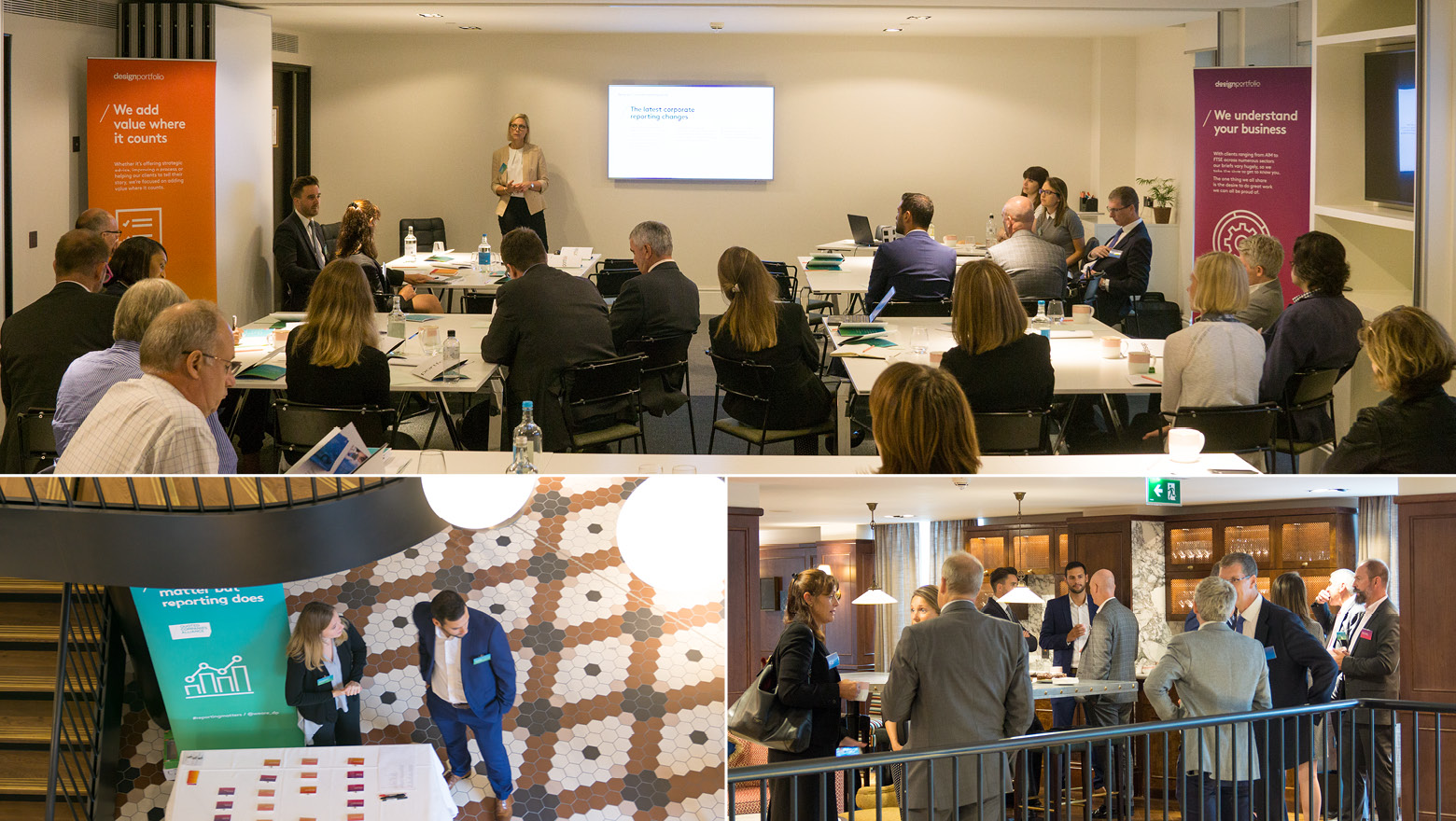 Stay informed with regulations, insights & events by joining our mailer
Following the success of regional events in Leeds and Manchester, this week on Tuesday 27 June, we hosted a successful event in Cambridge in collaboration with the Quoted Companies Alliance (QCA), on the theme of corporate reporting.
Nurturing relationships and helping companies to improve their corporate communications are primary objectives for us and this week we had the pleasure of welcoming CFOs, company secretaries, managing directors and many others to join us in a discussion on how corporate reporting is evolving, and the increasing role of digital communication. We focused upon value creation through the business model and how essential it is for companies to tell their story in a way that is as unique as they are.
We also touched on one of the hottest topics of recent years: environmental, social and governance (ESG) reporting and our recent whitepaper on the subject was available to guests on the day.
Companies are now increasingly embracing ethical business practice and their own wider role in society with a noticeable increase in companies reshaping their strategy and business model with a new consideration for material issues.
Amongst larger businesses, we have seen a welcome move towards enhanced accountability within governance reporting. Our guest speaker Tim Ward (CEO, QCA) explained how the lack of analyst research for AIM and smaller listed companies (in both quality and amount) has meant that meaningful and engaging corporate governance reporting is more important than ever.
According to a recent investor survey carried out by the QCA, it is believed that 33% of companies' market capitalisation is strongly based on reputational value. This supports our belief that no matter what the size of a company, they should always strive to consider new ways in which their reporting can be more transparent in telling their story –particularly with regards to corporate governance and the frameworks in place to ensure operational success.
Towards the end of the event, several key questions moved the discussion towards why good corporate reporting is so important. There were two questions which stood out as particularly thought-provoking:
How will Brexit affect corporate reporting?
It is clear that Brexit will impact companies in various ways – from human capital, to the way their operations are carried out. However, Tim Ward of the QCA pointed out that: "Brexit should not be used as an excuse". A point which many agreed with. We believe that in many cases, it is beneficial to address the potential impact of Brexit (for example, in the risk management section of the annual report), regardless of a company's size. In addressing foreseeable concerns, a company's reporting immediately becomes more transparent and accountable and this plays a major role in building trust and creating shareholder confidence. UK corporate reporting is renowned as one of the strongest and most transparent in the EU. It is therefore unsurprising that the EU has followed in our footsteps in areas such as corporate governance and sustainability – one example being the issuing of the EU non-financial reporting directive. As the UK is the front runner of corporate reporting in the EU, it is safe to predict that there won't be extreme changes in the way companies report on their strategic progress.
As the website is the first port of call, should companies focus on developing content online, rather than spending resource developing content in the annual report?
During the event, we had the opportunity to discuss the challenges that small and medium-sized companies face in preparing their annual report.
As the Annual Report is a regulatory document, it is one of the only times in the year that a company can ensure buy-in from all key members of the Board and the wider business. This is an opportunity which should be capitalised upon by creating a unique and tailored annual report that helps a company to communicate its story. It's companies like Design Portfolio who can help find cost and time efficiencies for smaller companies by helping them to develop and enhance their corporate communication suite, which can take key elements of the annual report and ensure consistent, compelling storytelling which engages various audiences across multiple communication platforms, such as digital channels, corporate factsheets, and investor presentations.
We would like to thank all of our guests for their attendance and thoughtful contribution at the event and we look forward to hosting our next event. We hope it will be as successful and enlightening as our evening in Cambridge.