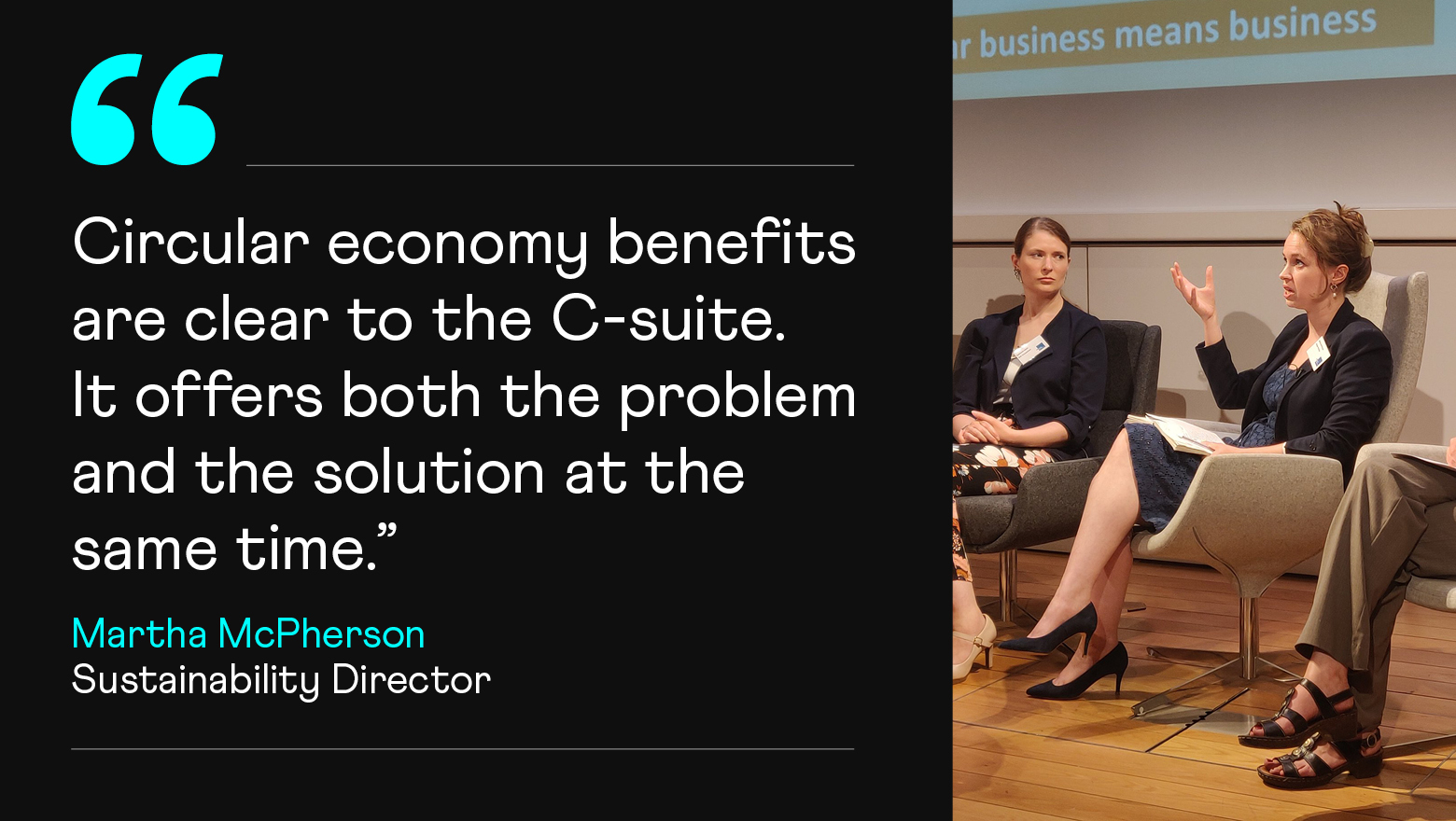 "I'm very optimistic that hitting the mainstream is possible for the circular economy
Stay informed with regulations, insights & events by joining our mailer
On Thursday 14 July 2022, our Sustainability Director Martha McPherson shared her reflections and experiences on a panel with representatives from John Lewis, SAS International and the Institute of Materials, Minerals & Mining to help launch the new report from the Circular Economy Task Force hosted by Green Alliance, Circular Business Means Business.
Watch the event back below or read on for more information.
The circular economy is an economic model in which businesses can create supply chains that keep products and materials in use for longer, by recycling, reusing, sharing waste products, and taking a sharing/rental approach. The report shares research indicating that circular business models cut carbon, create jobs and boost economic growth by breaking the ongoing link between business and consumer activity and new resource use, generating more value from the existing products and materials in circulation. At a time of economic volatility, they also protect against supply risks.
Key discussion points:
Climate and carbon emissions
The Green Alliance report raised an important link between climate change, carbon emissions and circularity – when companies move towards a more circular supply chain, they often end up decreasing emissions at the same time. An example would be where waste product removal leads to emissions from transportation, whilst waste recycling eliminates that need. When starting to think in a more circular way, looking at emissions savings at the same time can lead to useful strategic discussions across different parts of a business.
Data
Data is a "baggy monster" that companies find difficult to get their arms around. The lack of harmonisation in the sustainability metrics and data arena is increased when it comes to a circular economy, where there are questions about how to measure pre-used and recycled materials. Katherine Seton from SAS International shared an example in the steel sector, where accreditation processes require levels of granularity in the monitoring of steel content that are different from industry standard, and so pose headaches for businesses trying to translate between the two.
Supply chain
Supply chain is top of mind for business leaders after the pandemic and with the Ukrainian conflict leading to difficulties in sourcing, transport and distribution. The general public, too, have experienced shortages in supply and associated price rises. Circular business models aim to increase resilience in the supply chain, as reusing and recycling bring the inputs for product manufacture geographically closer to the process. There is less concern about disruption to long supply chains. An example of this in the metals sector is "urban mining", in which material inputs are sourced from the waste of other metal products being decommissioned and scrapped within urban centres, rather than raw material being mined.
Stay informed
We are currently working on a research paper on the uptake of circular economy business models in Europe, sharing learnings, case studies and examples of the circular economy in action. To get involved in the research or to request your copy, get in touch with Martha McPherson on martha.mcpherson@design-portfolio.co.uk.
Watch: Circular Economy Task Force event: Circular business means business