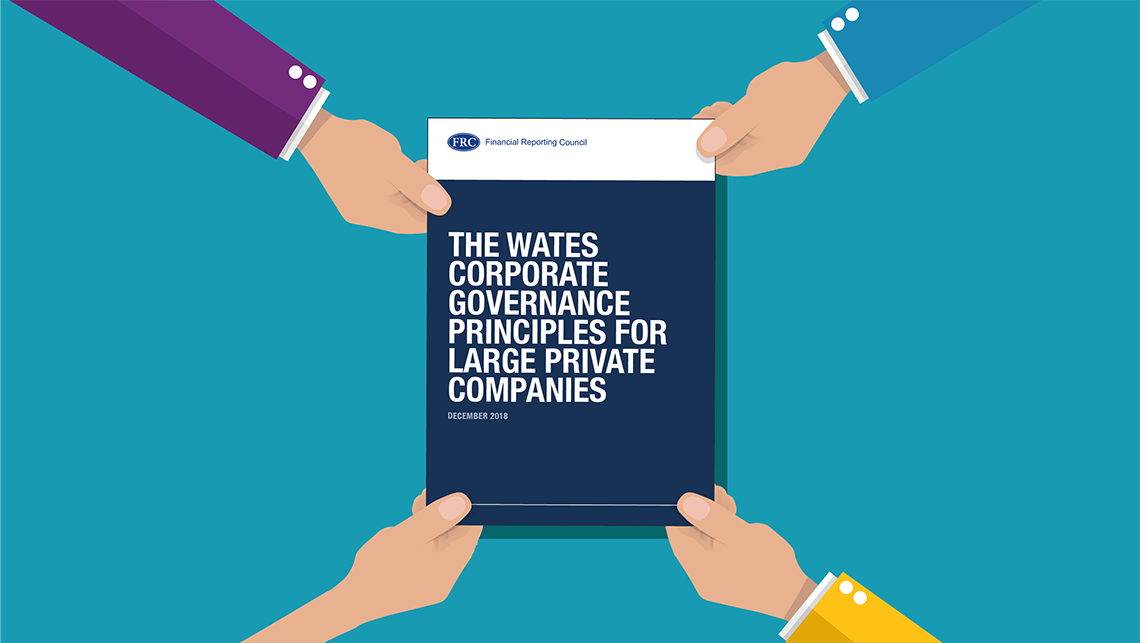 Stay informed with regulations, insights & events by joining our mailer
On 12 December 2018, we had the pleasure of attending the launch of the Wates Corporate Governance Principles for Large Private Companies, hosted by the FRC.
Following the publishing of its green paper in 2016, the Government has introduced secondary legislation requiring all companies that have more than 2,000 employees and/or a turnover of more than £200m and a balance sheet of more than £2bn to disclose their corporate governance arrangements.
Companies meeting the criteria stated above can then choose which code they would like to use, either the UK Corporate Governance Code or the QCA Code. These Codes, however, have been designed to cater for public companies, and may not be ideal for all private companies due to the non-homogenous nature of their ownership structure.
There are around 1,700 UK companies that are affected by the new legislation, including subsidiaries of listed companies and premium-listed companies. As large private companies play a fundamental role in shaping economies and societies, there is an increasing scrutiny on the way business is conducted and how stakeholders are engaged.
What do the Wates principles entail?
The six principles comprise of matters such as culture, board diversity, long-termism, remuneration and stakeholder engagement.
Principle one: purpose and leadership
A company's purpose is a stated objective that defines its "reason for existing". It should look beyond profit and articulate the additional value that the company creates for society. It is critical that the Board defines a company's purpose and ensures it is at the forefront of employees' minds.
Principle two: board composition
It is critical that companies demonstrate how they have the right skills and experience in place to enable the company to overcome challenges.
Principle three: directors' responsibilities
This is an opportunity for companies to provide detail on individual board member's responsibilities and any policies and procedures in place.
Principle four: opportunity and risk
Companies should explain how the board plans to identify and mitigate principal risks and, even more importantly, capitalise on opportunities, such as embarking on new innovations and exploring new markets.
Principle five: remuneration
The board should promote an executive remuneration structure that is aligned with the company's long-term strategy, whilst taking their workforce into consideration.
Principle six: stakeholder relationships and engagement
Processes and procedures should be in place to foster a two-way dialogue between the company and its stakeholders, using both formal and informal channels. By overseeing engagement with stakeholders and taking feedback into consideration in decision-making, the board can assess the effects of company practices and predict future developments. Case studies can be used to highlight how stakeholder feedback has been considered.
What is next?
Contrary to the UK Code, the Wates principles do not set out provisions, but guidance, to help companies explain their approach to applying each principle in a way that is most appropriate.
Large private companies will need to publish a "corporate governance statement" in their annual report and on their website, stating which code the company reports against, how it has been applied, whether it has departed from it and the reasons for doing so.
Whilst we won't be able to review how companies report on these principles until the 2020 reporting season, large private companies will soon start reviewing their corporate governance to ensure they comply with the reporting requirement stated in the Companies Act 2006.
The FRC is responsible for monitoring how large private businesses will report against the Wates principles and will focus on a "name and fame" approach for best practice.
If you would like advice on how you can improve your corporate governance reporting, please contact daniel.redman@design-portfolio.co.