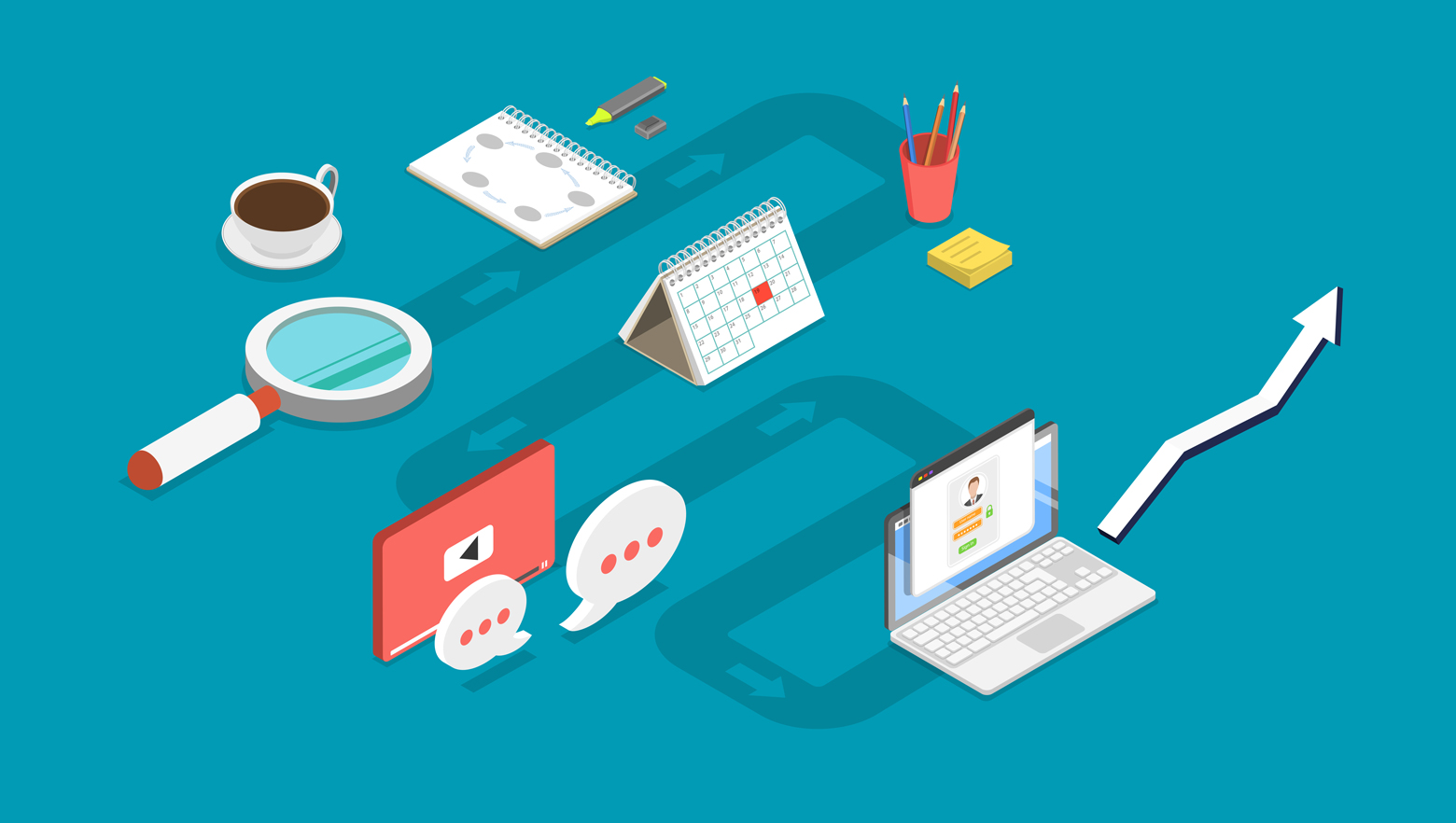 Stay informed with regulations, insights & events by joining our mailer
There are lots of opinions when it comes to design. Just about anyone can open a free design tool, but it takes a strong team with an established process to execute a great project.
At Design Portfolio, we have an eight-stage process to deliver purposeful and engaging communications that work for each individual user's needs. Each stage leads into the next and ensures we deliver a great end product whether we're building a website, social media campaign or video.
Let's get started…
1. Initiation
What are we doing and why are we doing it?
Building client relationships is an essential part of establishing a design that works specifically for the client's needs. Each client relationship requires different methods of communication to elicit the best means of conveying the individual story.
2. Planning
What is being delivered and how big?
Often overlooked, but by starting with the sitemap and content plan, we are able to identify size, scope and complexity of the website from the beginning. This is followed by user experience (UX) and wireframing to outline the basic structure and give everyone an understanding of the content hierarchy along with any interactive features to give depth to the content.
3. Content
What are we going to use to tell the story?
We take stock of what content we have available by reviewing all existing collateral from online and offline sources (annual report, presentation, video). Working closely with our clients, we decide what to take forward, rewrite or create, ensuring we make the most of our content and don't fall into the "copy-and-paste from the original" trap.
4. Design
What is it going to look like and how will it work?
The creative process will begin by developing a number of responsive design concepts for desktop, tablet and mobile (with a strong focus on mobile views and navigation). An online tool is used for rapid prototyping to show our clients how the final product will look early in the design process and also gather feedback on screen about the things they like and dislike. To maintain constant communication, presentations and reviews occur throughout the process to ensure there are no surprises further down the line.
5. Development
How will it be built?
Our approach to development means the developer is heavily involved during the design process to validate features and functionality. The technology that we use, Concrete5, provides our creative team with the confidence that there is a highly flexible system powering our websites, which in turn enables us to focus more on high-value messaging and content items.
6. QA and testing
Does it work?
The design doesn't end with the design process. We pride ourselves on delivering great UX on all devices and browsers. To guarantee this, the designer remains fully committed to the project team throughout the development process to ensure the creative brief and visual aesthetics are being delivered in full. The dedicated QA team tests functionality and ensures everything is correct ahead of launch.
7. Launch
When to go live?
Once everything is signed off, all that remains is to launch. Just like every other stage of the lifecycle, no detail is overlooked. The sign-off stage sees us following various IT processes to go live, ensuring all our monitoring and tracking tools are functioning and the servers are supporting the traffic running through the site.
8. Aftercare
What's next?
Launch is only the start for us. As specialists in this field, we continue to support our clients with content planning and monitoring to ensure the general good health of the site. As business requirements change, we are on hand to ensure the website flexes accordingly, assisting with everything from evaluating analytics and SEO performance, to building out campaign pages or microsites to showcase specific content or events.
If you want to discuss our process or talk about a project, please get in touch with niall.callan@design-portfolio.co.uk.